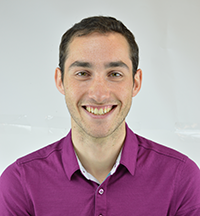 Hi, my name's Alistair. I work as part of the User Centred Design team at PDR. My work involves translating user insights and human factors testing data into design outcomes for our clients.
Much of the work I've been involved with since joing the team isn't public yet, but you can read more about what the UCD team at PDR do.
You can also talk to me on twitter @alistairuff
---
Prior to working in the User Centred Design team, I was an intern with the Service Design team, and even before that the Eco-Design team.
Whilst I was in these intern positions, and before I arrived at PDR, I also worked on other freelance and personal projects. I've created corporate presentations for a Multi-national steel company, 3D virtual models of renewable energy installations alongside a commercial photographer for planning applications and designed a range of badges for the UK's long distance cycling association.
I also work informally with friends and contacts to lend design support on web, app and print projects whenever I can. I enjoy stretching my understanding of design and applying it in places and ways I hadn't previously expected. As a Trustee for Rebounders, a trampoline therapy charity, I find myself taking on all kinds of creative projects; photography, video and web skills are greatly needed by any organisation in the digital age.
---
I'm always looking for opportunities to learn and develop, The creation of this site is an output of that, simple but more than I could have done 6 months ago. I'm enrolled on a Professional Doctorate in Design, exploring how we as designers go about prototyping immaterial design outcomes, and how we could do it better. I'm trying to get better at engaging with and supporting the local design community in Cardiff too. I'm also trying to write more, but this is all a work in progress.